5 Survival Tips from a 50-year Member
Posted on March 29, 2017
---
"I don't think that the local unions have seen this many people out of work since the 1980's," says Warren Fraleigh, Executive Director of the Building Trades of Alberta. "I think it's a difficult time for the business managers of these unions because things are so uncertain right now and unfortunately there's no silver bullet solution to this. It's a waiting game. Everybody is just going to have to hunker down to get through this period. But be prepared to capitalize on the recovery because it will come"
This last year has been incredibly challenging for Local 955 members. Surprisingly, 70% of Local 955 members (in good standing) have been with the union for 10 years or less. This means that most of our members haven't experienced this situation first hand--at least not with our union.
So we thought we'd introduce you to someone who has survived this tough economy and come out the other side.
Meet John
John Wells is a 50-year member with Local 955 and is currently semi-retired. He teaches part-time at NAIT, likes to write poetry and keeps himself busy with any number of projects at home. He's a mobile crane operator by trade and was working at Sterling Crane in 1983 when they started letting people go.
Despite his fear of being laid off, John stayed on with Sterling, but there were weeks when things were extremely slow and money was getting tight. John and his wife Linda survived these times by adopting a few key mindsets and strategies that have served them well over the years.
Survival Tip #1: Adopt a strong work ethic and supplement your income
John grew up on a farm in Saskatchewan and knew the value of hard work. He was loyal to his employers, and would do just about any job that needed to be done.
"Back then, I didn't just run a crane, I went rigging. Whatever job needed to be done, I did it. Even if I had to get dirty, I would do it. I would shovel manure if it meant making a living for my family. Pride never got in my way of doing remedial work. I really believe in the Local's motto: 'A fair day's pay for a fair day's work.'"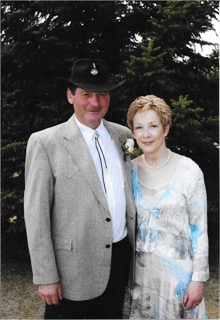 John moved to Alberta in 1967 and met his wife Linda a few years later. Linda and John were a team. The idea was: John made a worthwhile living and Linda made living worthwhile. But sometimes the roles were reversed. When John couldn't work due to injury or gaps in jobs, Linda would go back to work. At home, they would also raise chickens, cattle and grow vegetables in the garden. There was even one winter when John chopped and sold wood for cash! He did what he had to when times were tough.
Survival Tip #2: Hope for the best but plan for the worst
Planning for the worst financially can often feel like acknowledging the possibility of divorce by signing a prenup before you get married, or planning your funeral. But in the long run it can make a huge difference.
John and Linda understood that trades work wasn't always steady, so when things were good they tried to sock away at least three months of payments, preferably six if they could swing it. They also used credit sparingly. Unless it was food, clothing, or shelter it wasn't purchased unless they could use cash.
"Although this way of living takes a lot of self-discipline, it's worth it. It's very rewarding," says John's wife Linda. "We never wanted to lose what we had worked so hard to get."
Survival Tip #3: Ask for help
Unfortunately there were many Albertans back in the 80's who were hit extremely hard. They ended up losing everything including their families. John and Linda had a close friend who committed suicide in 1985. A victim of the economy, their friend lost his home but more importantly lost his way. His downward spiral with addictions cost him his family as well.

"It was sad because he was losing his family," said John. "Financial loss you can recover from, but it's hard when you lose your marriage and your family. That's the most important thing you need to hang onto."
Whether it's getting financial advice or booking an appointment with your doctor or therapist about your physical or mental health, it's important during stressful times to ask for help before the situation turns into a crisis.
Survival Tip #4: Keep busy
John recognizes that not everyone has been through the Alberta boom and bust cycle. But having been through it a few times, he knows it gets better. The economy eventually turns around but it takes time. During those down times, John always tried to keep busy doing odd jobs or getting involved in the community.
"I always say, something is going to kill us all, but doing nothing will kill you faster than something," says John with a chuckle. "I know there are a lot of guys sitting on the lists who are looking for work and nothing is happening. But you can't just sit at home and do nothing. Engage yourself in life. Don't go inward, don't let depression get the best of you."
Survival Tip #5: Network through giving back to the community
One of the best ways to get out of an unemployment funk is by giving back. Not only is it beneficial to use your skills, but it's also a great way to network with people in your community. You may even find your next job!
If you want to work with your hands, check out Habitat for Humanity or if you like working with animals, there are many organizations needing volunteers including the Edmonton Humane Society.
"It can even be something as simple as helping your neighbor shovel her driveway," says John. "It's amazing how good you can feel just from helping someone out. That's your payment, it's an emotional payout, not monetary. And who knows maybe that person you helped knows someone who has work for you. You just never know."