Remembering the Fort McMurray Wildfires
Posted on May 21, 2017
---
Flames crawled along the roadway as panicked residents of Fort McMurray tried to evacuate on May 3, 2016. The grass covered highway medians were littered with abandoned vehicles that had run out of fuel or had caught fire. The roadway itself was packed with residents fleeing for their lives, but getting nowhere. They moved slowly, watching the fire inch closer.
"Are we going to live, Daddy?" Chris Flett's terrified 7-year-old daughter asked as he maneuvered his truck into traffic, attempting to avoid the flames. Although he tried to reassure her, fear knotted his stomach.
Chris Flett is an IUOE Local 955 Business Agent who has lived in Fort McMurray most of his life. On May 3, with no evacuation order issued, Chris had to make the difficult decision to leave everything behind. Strangely, on the days leading up to the evacuation Chris instinctually began cataloguing and photographing everything in his house. He slept on the couch for two nights, setting his alarm to ring every few hours to check on the status of the fire.
It took Chris Flett and his family three days to reach safety. They stopped often, either to refuel or rest. Fortunately, Chris had friends who lived south of Fort McMurray that gave him and his family a place to rest, including fellow Local 955 member Jeremy Grasse. Chris was incredibly thankful for the hospitality he and his family received during this time.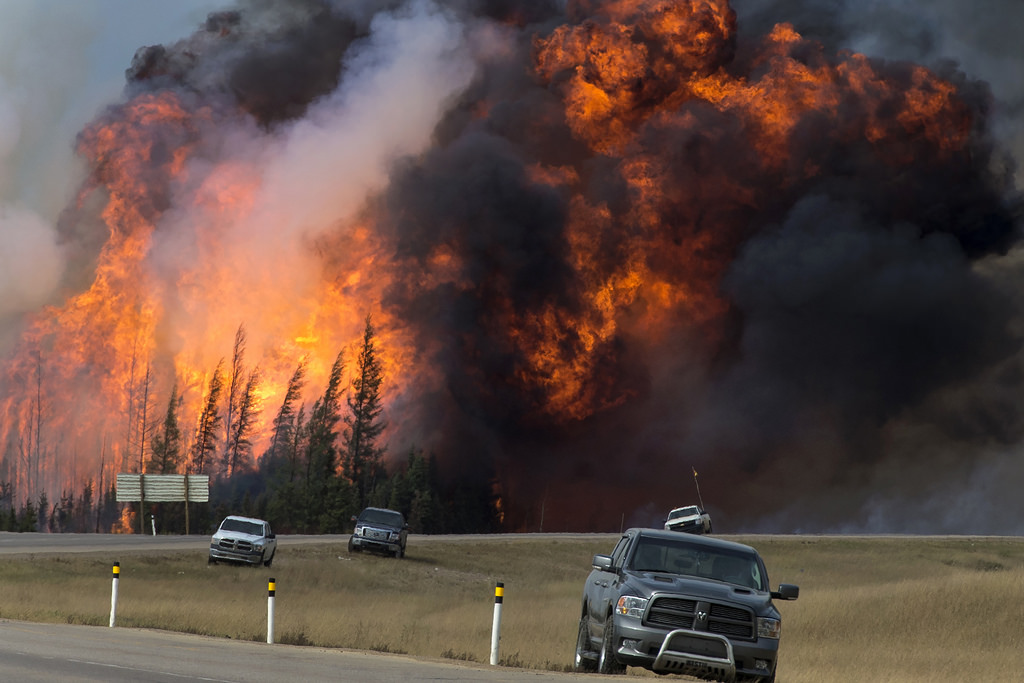 Chris, his wife Chrissy and their daughter Jessica eventually travelled south to Highway 881. They were stuck in a gridlock due to a major accident that claimed the life of two young people and started another forest fire.
"We sat there for five to six hours, with a fire growing in front of us and no way to turn around. No way to get back because we have a camper and the highway is too narrow," said Chris. "Eventually, the community was able to put out the fire. But it was a pretty scary scenario. We had a fire behind us and one in front of us. We were actually debating dropping the camper in the middle of the highway and turning around and heading north."
Chris and his family ended up in Athabasca that night. They saw a sign for Fort McMurray residents and pulled in. The next day, they were much luckier. They ended up at a Christian youth summer camp in Dapp Alberta (north of Westlock) called Teen Time Ranch. It was set up with cabins, food, clothing, donations and everything a camp would supply such as boating, fishing lessons and riding lessons. The children even participated in the local school program at one point. All expenses were taken care of.
Chris and his family stayed at Teen Time Ranch for nearly five weeks before Chrissy and Jessica headed back to Nova Scotia where her family is from. Chris stayed behind and worked in Leduc until authorities said it was safe to return to Fort McMurray.
"My house was completely gone," said Chris. "It's hard to imagine, but when you go through something like that, every emotion you can think of goes through you. It was frustrating, depressing, and scary."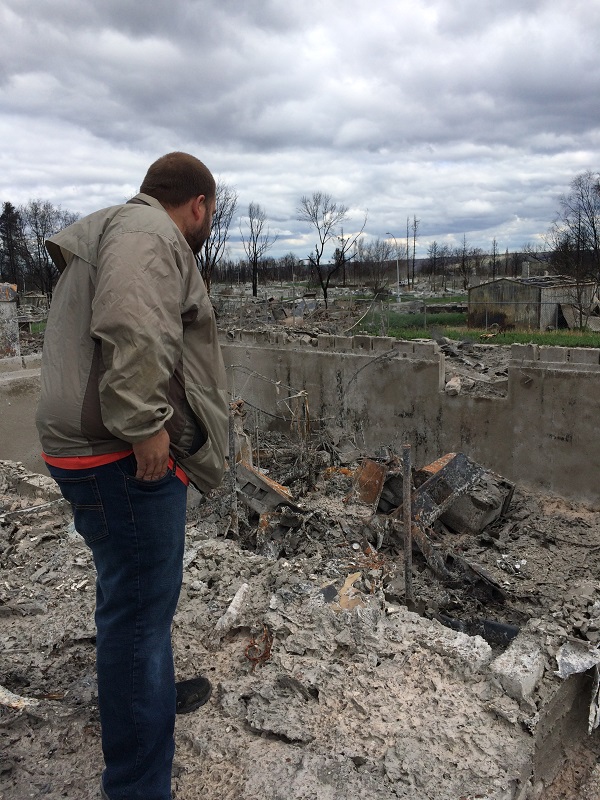 Accepting donations and any kind of help was one of the most difficult things for Chris. Although he had lost nearly everything in the fire, it was hard to even accept the basic necessities like clothing.
"It was incredibly humbling. Fort McMurray has always been one of the most giving communities in the world. We set records for charities, so it was really hard to get used to the idea of taking something."
The rollercoaster for Chris and his family still wasn't over. On December 15, Chris woke up to his phone ringing off the hook. He had won $432,000 through the Stollery Mighty Millions Lottery 50-50 draw. When Chris called the Stollery to confirm, they asked if he had the ticket stub or proof of address. He explained that he had lost everything in the Fort McMurray fire.
"I can't believe it's someone like you that got it. I'm so happy," the woman from the Stollery said between sobs. She then asked if she could put him on speaker phone and if he would repeat what he said.
"I realized that I was talking to a whole house full of people. And then they all started to ball their eyes out. And then it started making me choke up too," Chris said. "It was a pretty intense experience. It just hits you, the highs and lows of everything that had happened in the past few months."
Chris and his family used the money to help rebuild their home and to give back. They donated to Teen Time Ranch where they stayed and to various charities around the region.
It was quite a different story for Dan Madden and his wife Tracy. Originally from the United States—specifically Seattle, Local 302—Dan moved to Fort McMurray in 2012 and worked as a Crane Operator on a Travel Card. After an extensive kitchen remodel of their rental space and moving the remainder for their belongings, Tracy and Dan finally felt at home in Fort McMurray.
On May 3, Tracy stepped out the back door of the soup kitchen where she volunteered. She could see the monstrous fire in the distance with its thick, angry, black smoke. The fire was gathering in intensity and was headed straight for them.


"When I got home I got a call on Dan's cellphone, because he was working nights and sleeping at the time. It was Damien Stanley, a Business Agent in Fort McMurray. He said the fire was in Beacon Hill and looked like it was coming for us soon. He called back a half hour later and told us to get out."

Tracy woke Dan, but in a fog he didn't quite believe what was happening. They packed a few things, but both Tracy and Dan thought they would be back. They didn't think they would lose their home, their belongings or their livelihood in Fort McMurray.
It was a difficult task for both families to get out. Although Chris's family had a head start on Dan's, the results were the same: Traffic jams, blocked roads, and fire engulfing neighborhoods like they were paper. The main roads in and out of Fort McMurray were bright with flames. Residents had no choice but to go through the fire to get out. Sparks and ash flew onto vehicles causing paint to blister from the heat.
Dan and Tracy had fled their home with a full tank of gas, some clothing, food, water and blankets. Their son Michael was graduating from the OE Journeyman Apprenticeship Training Program on May 5 in Seattle, so they only packed what they thought they would need. Their plan was to fly down to Seattle and stay for a few days. They had no idea they would lose their home.
"By the time we got to Waterways it was fully engulfed," remembers Dan. "The fire was on both sides of the road. We went by the skidoo dealer and it was blowing up—parts of the skidoos were coming down in chunks. You couldn't see what was on the other side of the smoke either. You knew you had to go fast enough to get through it, but if someone was stalled on the other side you would smack right into them."
After hitting a major traffic jam, they opted to turn around and travel north towards the camps to wait it out. They got as far as Buffalo Pasture before they pulled over to hunker down for a few hours.
"During something like that your training kicks in," says Dan. "That's something the union has been really active in—safety training. Now it's become second nature. I truly believe that added to the successful evacuation of so many people."
Since Dan had spent some time as a volunteer firefighter, he understood that when the dew comes, the fire will lay down and the smoke will change from black to white as it eats up less fuel. It's still active, but it won't be roaring.
So they headed south towards Edmonton and made stops for gas along the way. Dan and Tracy were touched by the generosity of the surrounding communities. People had driven north to hand out food, gas, coffee, donuts, diapers, wipes, and toys for the kids. Even the fleeing residents were helping each other by sharing food, water and information on the best routes to escape. When they finally got to Edmonton in order to fly down to the States, they breathed a sigh of relief.
"At that point we figured this whole nightmare would be over. We were naïve enough to think that if it flared up again, water bombers would come in and put it out. We figured it would be a mess, but then it would be over. The day after our son's graduation we got word that our place was gone," said Dan.
Unfortunately, their tenant insurance only covered $30,000 of the $100,000 worth of belongings they lost. Dan and Tracy stayed in the states for another week as the fire subsided in Fort McMurray. Dan eventually got a call from his company to go back to work. He stayed in the camps up north, assuming it was safe but it wasn't long before the fire was raging again, destroying cars, camps and morale.
"Dan sent me these videos of the fire up there. He never said it in words, but I felt like he was saying goodbye. That maybe this time he wasn't going to get out alive," said his wife Tracy.
After much confusion, Dan and his colleagues were eventually flown out using WestJet and no one was hurt, but the trauma of a second evacuation weighed heavily on everyone.
Approximately 90,000 people were evacuated from Fort McMurray. Out of the 2,200 structures that were destroyed by the fire, over 200 of those buildings were members' homes. There were no serious injuries or fatalities directly related to the wildfires, however, the level of devastation made the Fort McMurray wildfires the worst natural disaster in Canadian history.
Despite the chaos, trauma and sadness at this time, both Chris and Dan were grateful to have the Union to fall back on. Both members headed to the Edmonton hall to collect the $500 emergency visa cards that IUOE Local 955 was handing out. In fact, for most members, this was the first relief payments they received. Some residents had fled the city with only the clothes on their back. To them this funding was a life saver.
"That money got you the basics like clothes, food and a toothbrush," said Chris. "Honestly, there was something soothing about coming to your Union to get the credit card and seeing your Brothers and Sisters that evacuated and did the same thing. It was a healing experience to be there and see that everyone was safe and in good spirits. It was miraculous how quick they were able to get people in and out."
In order to help members in a timely manner, Local 955 had to act fast. On May 3, Business Manager, Bruce Moffatt notified IUOE Canadian Director Lionel Railton about the fires. That evening General President James Callahan phoned Bruce to offer assistance as well.
After an emergency Executive Board meeting, the $500 relief payment was approved and prepaid visa cards were ordered. Approximately 450 cards were given out starting Thursday, May 4. In total, Local 955 supported 1,773 members from Fort McMurray. After the hall ran out of visa cards, they began working with members to get banking information set up for direct deposits. The Union was also offering members a chance to view aerial shots of their homes to see the extent of the damage. It was a very emotional time for members.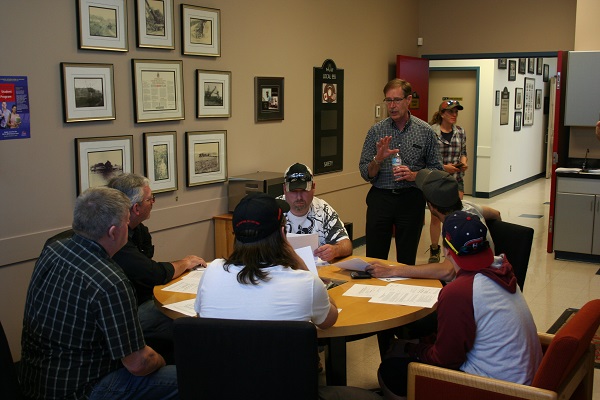 "This is what unions are there for. We're here to support members in times of crisis," says Bruce Moffatt, Local 955 Business Manager. "My heart goes out to all of the people affected by the wildfires and I know that the effect of this is still being felt today by our members in many ways."
Across Canada, IUOE Locals were donating $10 per member directly to Local 955. The International had also jumped into action, sending letters and cheques totalling $5000 USD to members who had lost their homes. The IUOE National Charity Fund made their first payments to members on May 13. They assisted over 200 members.

When Dan went back to the United States, he had the opportunity to meet General President James Callahan at Local 302 in Seattle.
"I got to visit him and thank him for his help. He's no different than you or me. He's a blue collar, roll-up-your-sleeves and get 'er done kinda guy. Now he's the International President. He told me that he knew what everyone in Fort McMurray was going through because he experienced a bad hurricane that came through and wiped them out. He was very empathetic and understanding."
When Dan returned to Canada he had to find new work and decided that Edmonton held the best opportunities. He had to start over again with his wife Tracy. Now that they're settled, neither have any intention of leaving. Local 955 is their new Union and Canada is their home.
"You won't be able to get rid of me that easy," Dan said with a laugh.
Chris and his family are currently renting in Fort McMurray until their home is finished which may be as soon as early June. Both Dan and Chris were overwhelmed and humbled by Canada's response to Fort McMurray residents. The generosity and warmth they received will never be forgotten.
To view the rest of Chris and Dan's photos from the wildfires, please visit our photo gallery.