Norman Budd Coutts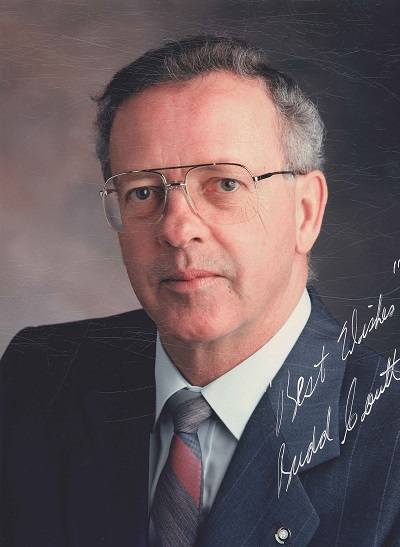 Norman Budd Coutts was born on Vancouver Island in British Columbia and raised in the Peace River country in Alberta. In 1957, he returned to British Columbia and joined Local 115 as a heavy equipment operator.
"When I left to go to B.C, my father said to me, 'If you get the chance to join Local 115, don't let anyone talk you out of it.' So I became a member through an organizing campaign."
Budd transferred to the International Union of Operating Engineers (IUOE) Local 955 in 1961. During this time he became a Job Steward, and got to know the Business Manager, Irv Nessel. A job opening as a Business Agent came up so Budd applied and the job was offered to him. During that time the total membership was under 800 people. The boom and bust cycles had created some instability in the membership. There were quite a few members who had been suspended for not paying their dues.

"For a while it felt like I was the bill collector for the union. I was always arguing with a member to get his dues paid," says Budd with a laugh. "They could see me coming a mile away."
In 1971 Budd was elected Business Manager and continued serving in this position until 1982. During this time Budd focused on developing the Local and expanding the membership. He wanted to get the union into better financial shape and create more stability.
Under Irv Nessel, the Health and Welfare plan was started, and under Budd's leadership they also added the Pension plan, and the Training Trust Fund. Promoting the recognition of journeyman qualification for hoisting equipment operators was also part of Budd's portfolio at the time.
While Budd worked as the Business Manager, he also took on roles with the International. In July 1978, Budd was elected General Vice President (GVP) of the IUOE and continued as GVP until 1990.
Budd left Local 955 in 1982 when he was appointed to the position of Canadian Regional Director, and became responsible for the Union's activities across Canada. He held this position until January 1990.
There was a lot of overlap in Budd's career. Along with balancing his roles as husband and father of two small children, Budd also held several positions within the trade union movement while he worked with IUOE, such as the Executive Board of the Alberta and Northwest Territories Building Trades Council, and the Executive Board of the Canadian Building and Construction Trades Department which he chaired from 1987-1990. He also served as an Executive Council Member of the Canadian Federation of Labour.
Budd was a founding member of the Canadian Labour and Business Centre's (CLBC) Board of Directors in 1984, and continued to participate in the national board until they closed their doors in 2007. The CLBC was established by the Federal Government as the Canadian Labour Market and Productivity Centre for the purpose improving communication and relations within the business/labour relationship.
"It was a very hectic life," said Budd. "I had two kids in school and I was flying all over Canada all the time and after a while it can be a bit much. But at the same time, it's kind of exciting. You're in debates with people, you're promoting the membership and the union. In the end you know you're doing important work."
Budd was elected General Secretary-Treasurer, the second highest office in the IUOE, on February 1, 1990. He was re-elected to a five-year term in April of 1993 and again in 1998.
During this time Budd lived in the Washington, DC area with his wife Joan. He enjoyed his time and experience.
"You get to see how things work. For instance, I really noticed the marked difference between the American states that had 'right to work' laws and those that didn't. The states that had 'right to work' were generally scraping the bottom of the barrel in terms of wages, safety and pension. It really is the right to work for less."
In 2002 Budd retired and decided to live in Washington a while longer before coming back to Alberta where he could be close to friends and family. It was during this time at the 37th International Union Convention in 2008, he was honoured with the title "General Secretary Treasurer Emeritus" for his exemplary service to the IUOE.
On September 23, 2017 at Local 955's Annual Awards Banquet, Budd received his 60-year membership achievement award.